Starting 2022 with a new lesson of life
In this line of work, we are used to receiving any kind of people. I do not make any distinction when it comes to surf lesson requests, I like to treat people as my equals.
Still, some days ago I received a special petition, one I never received before. It was a couple with a nineteen years old son who has autism. I accepted the request, and I prepare myself for the 4 lessons booked. To be honest I was having doubts about my own decision because I have no previous experience with people with autism.
The day of the surf lesson
I made a decision, I would treat him as I do with everyone else: With respect, kindness, modesty, and attention. On the day of the surf lesson, we met at Santa Teresa, then I just went with the lesson as I would do with any other person.
Sometimes I thought he was not paying attention and I had to repeat the instructions a couple of times. With this in mind, we hit the water, and to my surprise, in the second push, he was able to stand up on the surfboard. He did formidably, after standing up, the most common thing for every beginner is to fall. He did fall too but with every new push, he was able to stand up longer and even do some maneuvers on the waves.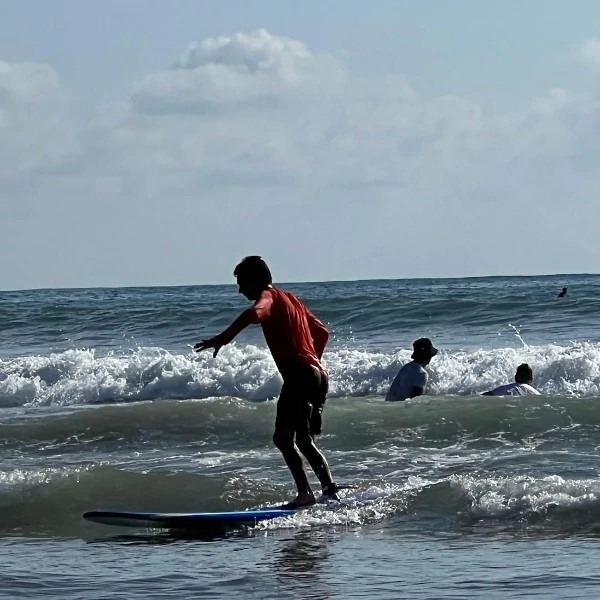 The technique he used was exactly the one I explained to him. Then I realized there that he actually was putting attention to my instructions. Maybe was I who was not putting attention? Whenever I thought he was not listening he was actually doing it carefully.
The other 3 lessons went very well. It was fun for both of us and he managed to sharpen his surf skills, riding the board very well. Because the family asked for confidentiality I can't mention his name. I know he will be ok, he has such loving parents and I hope he will continue surfing.
It was a humbleness lesson for me, we should not sub estimate people's capabilities to surf the waves, no matter their condition. This experience helped to remind me that surf is for everyone, and I am so grateful because I had the opportunity of being his surf instructor.
You can reserve your surf lesson here
Sincerely
Audrey