Maldives Surf Adventure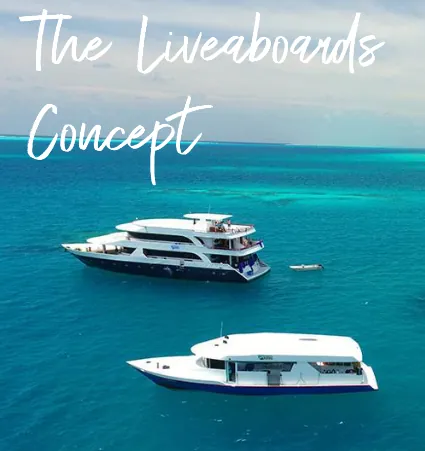 The Republic of the Maldives Islands is located in the northern part of the Indian Ocean, just south of the Indian subcontinent.

About 1,200 Islands stretch at 870 Km from North to South of the equator.
Its prime location exposes it to constant swells generated by storms in the southern part of the ocean.
These swells travel hundreds of kilometers north before hitting countless reef breaks that surround the islands.
The Maldives islands are grouped in Atolls, ring-shaped coral reefs on which the islands are located, surrounded by amazing reef passes and lagoons.

The waves in the Maldives are much friendlier than its neighboring Indonesian archipelago.
Countless perfect surf spots are at hand, from shallow-reef barreling waves to long and mellow peeling pointbreaks, the Maldives is truly a surfer's playground!

Details of the trip
Accommodation: The group will stay on our yacht in comfortable en-suite double rooms. All rooms are furnished for maximum comfort and have a private a/c.

Hospitality: During the trip, you will be offered a high standard of delicious meals, cooked by the chef, and served in an open buffet to suit your preferences. Fresh fruits will be offered as well during the day with complimentary tea, coffee, and mineral water (dispenser). Alcoholic drinks, juices, and espresso are available to purchase from the bar.

Guiding & Photography: You will sail between the majestic islands of the Maldives, in search of the best surf and ideal conditions, guided by a private surf photographer. All media materials will be screened for the group at the end of each day for surf analysis and will be given to you at the end of the trip.

Years of experience in these atolls by our crew will maximize your experience in and out of the water!
The Yacht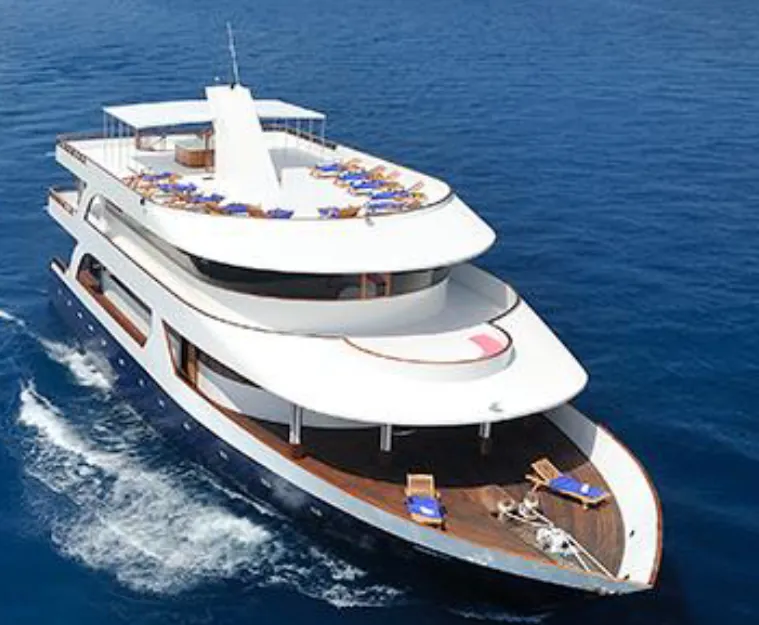 The yacht is 36m in length and can accommodate up to 20 guests. It's high functionality and service-oriented professional crew will grant you the surf vacation you deserve.
4 decks are kept in high maintenance for your leisure with a total of 11 cabins.
The main deck offers a spacious and air-conditioned communal area, with an internal dining room, a comfy Livingroom with a flat-screen TV, and audio equipment, and an adjacent bar, alcohol-equipped.

A total of 4 open spaces are located at the nose & Beam, on the main and upper decks for you to relax, enjoy a good book, or fish. At the top of the Myna, you will find a spacious open sun deck, equipped with sun beds and a jacuzzi, the perfect place for you're morning yoga routines or after-surf
relaxation.
Incoming Trips to Maldives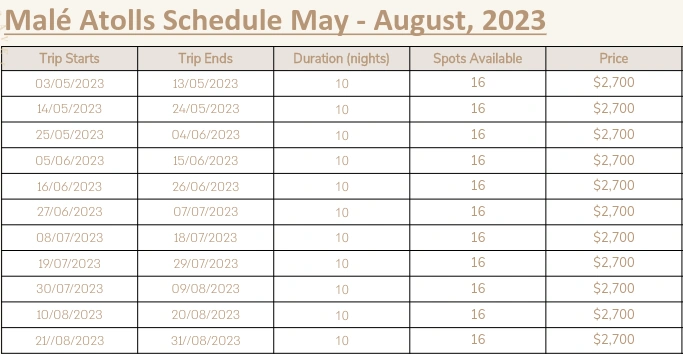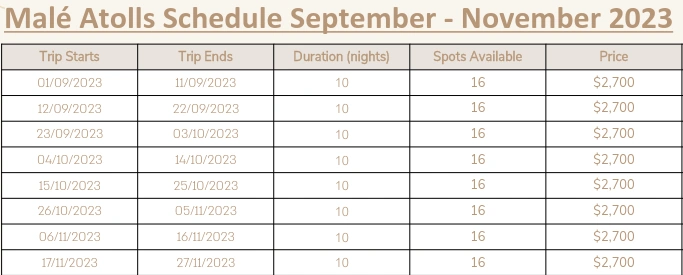 Malé Atolls Package includes:
Airport transfers
Accommodation for 10 nights / 11 days
Sunrise to sunset daily surf activity
Full Board meals – Open Buffet
Complimentary Tea, coffee & a water dispenser
Dhony & Dingi surf-spots transportation
Private surf photographer & video analysis
All Media files (videos & photos)
Local-style fishing gear + Snorkeling gear
All taxes
Price
Individual booking: From 2700 USD per person
Private Charter: From 3300 USD per person (Min 8 persons)
Maldives Islands
Our trips are directed to 3 major geographic regions:
• Malé Atolls – North & South Malé
• Central Atolls – Meemu, Dhaalu, Thaa & Laamu
• South Atolls – Huvadhoo
The Malé atolls' surfing scene has been the most popular for decades.
It is hard to compare the comfort of finding numerous world-class surf spots at about a 30-minute sail from the airport, to any other surf destination.
The Centrals & Southern Atolls on the other hand will offer the more adventurous surfers a chance to score more powerful and more consistent surf, with a minimum crowd.
To get to these regions you will have to sail for about 12-16 hours from Malé to reach the Central Atolls or board a 1-hour domestic flight to reach the Southern Atolls.