SUP, standing board paddling for seniors
Recently, I had a SUP tour in the Pochote estuary with three amazing people, Claudia, Elizabeth, and Scott.
The timing couldn't be better since I wanted to talk about how paddleboarding can be the right water activity for seniors. All of them were over 65 years old and without much experience in SUP, they were handling the rowing easily in a few minutes.
Claudia, 73, was standing paddling in no time, and she keep this position most of the trip. Kudos to her for her physical condition.
In the end, we take a rest sitting over the boards and letting the water flow take us to the estuary's mouth. Thanks for the visit guys, you were amazing. I hope you enjoyed the trip as I did.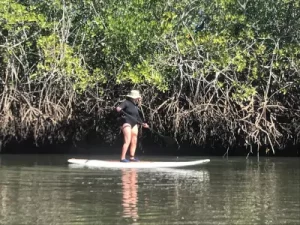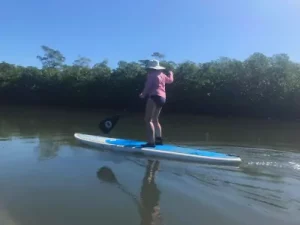 Is Standing Board Paddling(SUP) good for people for the mature?
The short answer is YES. The reasons are simpler than the short answer.
The terrain is flat. Estuaries and rivers where SUP is often practiced are calm and the water flow is slow. So, even if your physical condition is not the best, seniors can easily row in any direction they want.
The activity itself is not aggressive or demanding. People can take their time and decide on the rhythm they want to go.
You can paddle standing or sitting, even you can rest lying down for a bit if you need to regain strength.
SUP also allows performing other not fierce activities like yoga or low-impact exercises.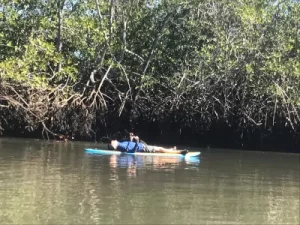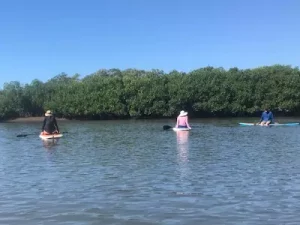 Other benefits apart from the physical ones?
Mental benefits are part of the formula when performing Stand Up Paddleboarding. Reducing the level of stress, developing reflexes, and mood improvement are just a few of the assets.
Therefore, if you are looking for an activity with nature contact to regain energy and a peaceful mind, SUP is the one to go.
It can be therapeutic for people who are facing stressful situations in their lives.
Do not forget to visit my Instagram account and my Facebook account. If you want to reserve your SUP tour click HERE.