Santa Teresa and Mal Pais closed by Easter week
We surely live in uncertain times, with the Covid-19 going all around the people, most countries are taking severe measures to contain the spread of the sickness. This is affecting the economy really hard but as the famous phrase says "while there is life there is hope".
This is why the people of Santa Teresa and Mal Pais are supporting the campaign "#Stayathome" and we are asking the people to not come this easter week to the beach.
Do not take this wrong, we love you when you come to visit us but also we are worried about you and your beloved ones and we want you to stay safe at home.
The fact we will be seeing each other soon keep the hope in our hearts. Remember "It is never as dark as when it is going to dawn".
I know we will ride the waves soon.
Sincerely, your favorite surf instructor, Audrey!!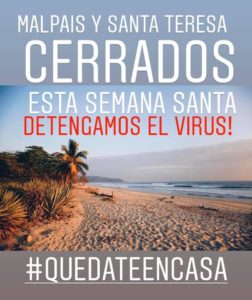 The image says "Mal Pais and Santa Teresa closed. This Easter week, stop the virus. Stay at home"

Surf lessons, Santa Teresa, Mal Pais, Costa Rica.